"ECSCW – European Conference on Computer-Supported Cooperative Work – The International venue on Practice-centred computing and the Design of cooperation technologies" is a series of conferences on computer-supported cooperative work located in Europe. From 1989 to 2017 ECSCW took place bi-annually in different towns in Europe (see below). From 2018 and onwards, ECSCW will merge with COOP and become an annual conference held in late May/early June under the aegis of EUSSET – The European Society for Socially-Embedded Technologies.
To learn about the history of ECSCW, have a look at the introduction from the Conference Chair to the first ECSCW in 1989.
As stated in the preface to the ECSCW 1991 proceedings, CSCW is committed to grounding technological development and systems design in an understanding of "the specifics of practical, situated action". ECSCW remains committed to this program.
ECSCW has been instrumental in defining the agenda of CSCW research since the beginning, and it still is. It has been the key forum for identifying and exploring issues such as
the situated nature of action and interaction and its implications;
the role of ethnography in CSCW and in computing in general,
the role and nature of 'awareness' in cooperative work;
the role of paper-based and other material artifacts in cooperative work;
highly flexible collaboration infrastructures and tailorable systems.
The ECSCW conferences are single-track conferences in order to facilitate critical discussion across the disciplinary and national subdivisions of the field.
The acceptance rate for papers has been between 20 and 25%.
See https://www.facebook.com/ECSCW/ for the conference series Facebook page.
Next conferences
In 2018 ECSCW will take place from June 4th to 8th in Nancy (France) – see http://ecscw2018.loria.fr/.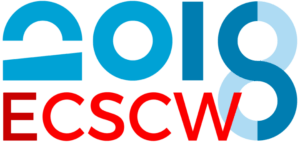 EUSSET News related to ECSCW
Proceedings
The proceedings of the ECSCW conferences are available in the EUSSET Digital Library.
Past and future conferences
2018: Nancy, France
2017: Sheffield, UK
2015: Oslo, Norway
2009: Vienna, Austria
2007: Limerick, Ireland
2005: Paris, France
2003: Helsinki, Finland
2001: Bonn, Germany
1999: Copenhagen, Denmark
1997: Lancaster, U.K. 
1995: Stockholm, Sweden
1993: Milano, Italy
1991: Amsterdam, The Netherlands
1989: London, U.K.